Be inspired by the stories of our persecuted brothers and sisters! At the VOM ADVANCE conference, speakers from around the world share personal testimonies about God's faithfulness in the midst of persecution. Join us to learn how God's kingdom is advancing, even in the face of fierce opposition. Meet your persecuted family face to face, and let God use their stories to challenge you to a deeper, bolder walk with Him.
The conference rekindled my desire to pray for others, to stand in the gap and, again, intercede for those who are persecuted for His name.
You make the persecuted real to us by sharing their pictures and their stories, and I feel like we know them through our prayers.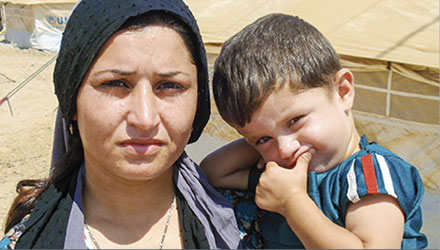 About The Voice of the Martyrs
The Voice of the Martyrs (VOM) is a nonprofit, interdenominational missions organization that offers practical and spiritual help to persecuted Christians around the world. Founded in 1967, VOM is dedicated to inspiring all believers to deepen their commitment to Christ and to fulfill His Great Commission no matter the cost. The Voice of the Martyrs continues in this mission around the world today through the following main purposes:
Our ministry is based on Hebrews 13:3: Remember them that are in bonds, as bound with them; and them which suffer adversity, as being yourselves also in the body.
To encourage and empower Christians to fulfill the Great Commission in areas of the world where they are persecuted for sharing the gospel of Jesus Christ.
To provide practical relief and spiritual support to the families of Christian martyrs.
To equip persecuted Christians to love and win to Christ those who are opposed to the gospel in their part of the world.
To undertake projects of encouragement, helping believers rebuild their lives and Christian witness in countries where they have formerly suffered oppression.
To promote the fellowship of all believers by informing the world of the faith and courage of persecuted Christians, thereby inspiring believers to a deeper level of commitment to Christ and involvement in His Great Commission.
Register for this VOM Advance Conference Saturday, November 04, 2017, in Lynnwood, WA Register Now
Location
Northwest Church
19820 Scriber Lake Road #1, Lynnwood, WA 98036
Get Directions
Details
One-day conference 9:00 a.m. - 4:00 p.m.
Doors open at 8:00 a.m. for registration, prayer room and resource area.
Lunch is 12:00-1:15 p.m. on your own at area restaurants.
There is no charge to attend. There is the opportunity to give an offering.
No child care provided.
Video and photography are prohibited during the conference.
Speakers
"Brother Benny"

"Brother Benny" is chief executive pastor of Alpha Ministries, Inc., and serves as the president of IMPACT Leadership Development at Alpha Bible Churches of India. Their objective is to train 100,000 leaders to plant 100,000 churches by 2020. Benny followed in the footsteps of his parents, who are church-planting missionaries in northern India. He spends most of his time speaking at seminars in Africa and in South Asian countries, empowering Christians who are persecuted for their beliefs.

Dr. Jason Peters

Dr. Jason Peters serves as Chief of Connection for The Voice of the Martyrs (VOM). Dr. Peters travels frequently to meet face-to-face with persecuted believers around the world and equips VOM to tell their stories.

more about Dr. Jason Peters

Dr. Jason Peters serves as Chief of Connection for The Voice of the Martyrs (VOM). As a global voice for our persecuted family members, Dr. Peters travels frequently to meet face-to-face with persecuted Christians around the world and equips VOM to tell their stories. He leads VOM's outreach initiatives, including global partnerships, constituent relations, special events, and oversees hundreds of speakers and representatives.

Peters was executive editor of the national bestselling book I Am N: Inspiring Stories of Christians Facing Islamic Extremism and host/producer of the I Am N video curriculum (David C Cook, 2016). He has ministered in 47 countries, as diverse as Sudan, Cuba, Nepal, Saudi Arabia, Kyrgyzstan, Sri Lanka, Egypt, Bangladesh and Nigeria.

VOM ministers internationally by serving, and serving with, Christians who are severely persecuted for their faith. An evangelical missions organization, VOM accomplishes more than 1,600 projects annually in 68 hostile and restricted nations by responding to persecution and advancing God's eternal Kingdom on the world's most difficult missions frontiers.

As a member of the executive leadership team, Dr. Peters is responsible for developing and disseminating VOM's core messaging across many platforms. This includes the VOM Advance Conferences, strategic partnerships, social media initiatives, legislative affairs and member care. These ministry tools and channels serve as a voice for persecuted Christians, bring American Christians into fellowship with their persecuted brothers and sisters, and allow believers in the U.S. to be inspired by the example of their joyful, bold and suffering family members.

Prior to joining the VOM leadership team, Peters ministered as a military chaplain, with assignments at the Pentagon, the U.S. Air Force Academy and as a faculty member of the Air Force Chaplain Corps College, where he directed Crisis and Trauma training, eventually retiring as a Lieutenant Colonel after 20 years of Air Force ministry. Jason and his wife Kimberly also lived overseas for several years, where two of their five children were born. In 2007, Peters earned the Doctor of Ministry degree from Dallas Theological Seminary, utilizing research conducted while ministering in Iraq.

Gilbert Hovsepian

Gilbert Hovsepian became involved in Christian music at an early age, producing his first recording by age 20. He faced persecution and numerous violent threats after his father, Rev. Haik Hovsepian, was martyred.

more about Gilbert Hovsepian

Gilbert Hovsepian, born in 1976 in Iran, gained an enthusiasm for music at a very young age, becoming involved in Christian concerts and worship events, and producing his first recording by age 20. While Gilbert was serving in the military in the city of Mashad, he faced persecution and numerous violent threats after his father, Rev. Haik Hovsepian, was martyred. Gilbert immigrated to the United States in 2000 and was honored to be a presenter and teacher for different youth TV programs. He became well known and admired among thousands of students in Iran and produced worship recordings and resources for the growing number of Christians there. Gilbert has produced more than 35 Persian albums that include many other gifted Persian singers. His recent new TV program, called "House of Worship," has enabled many underground churches in Iran to worship with live music, to learn new songs and ultimately see the power of worship in their spiritual life.