Be inspired by the stories of our persecuted brothers and sisters! At the VOM ADVANCE conference, speakers from around the world share personal testimonies about God's faithfulness in the midst of persecution. Join us to learn how God's kingdom is advancing, even in the face of fierce opposition. Meet your persecuted family face to face, and let God use their stories to challenge you to a deeper, bolder walk with Him.
The conference rekindled my desire to pray for others, to stand in the gap and, again, intercede for those who are persecuted for His name.
You make the persecuted real to us by sharing their pictures and their stories, and I feel like we know them through our prayers.
Upcoming Conference Dates & Locations
Select a conference below to learn more.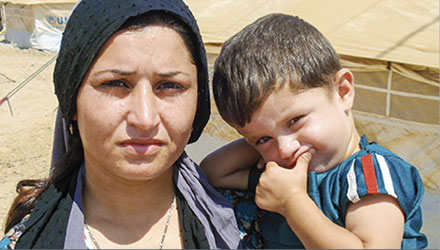 About The Voice of the Martyrs
The Voice of the Martyrs (VOM) is a nonprofit, interdenominational missions organization that offers practical and spiritual help to persecuted Christians around the world. Founded in 1967, VOM is dedicated to inspiring all believers to deepen their commitment to Christ and to fulfill His Great Commission no matter the cost. The Voice of the Martyrs continues in this mission around the world today through the following main purposes:
Our ministry is based on Hebrews 13:3: Remember them that are in bonds, as bound with them; and them which suffer adversity, as being yourselves also in the body.
To encourage and empower Christians to fulfill the Great Commission in areas of the world where they are persecuted for sharing the gospel of Jesus Christ.
To provide practical relief and spiritual support to the families of Christian martyrs.
To equip persecuted Christians to love and win to Christ those who are opposed to the gospel in their part of the world.
To undertake projects of encouragement, helping believers rebuild their lives and Christian witness in countries where they have formerly suffered oppression.
To promote the fellowship of all believers by informing the world of the faith and courage of persecuted Christians, thereby inspiring believers to a deeper level of commitment to Christ and involvement in His Great Commission.
Register for this VOM Advance Conference Saturday, November 04, 2017, in Lynnwood, WA Register Now
Location
Northwest Church
19820 Scriber Lake Road #1, Lynnwood, WA 98036
Get Directions
Details
One-day conference 9:00 a.m. - 4:00 p.m.
Doors open at 8:00 a.m. for registration, prayer room and resource area.
Lunch is 12:00-1:15 p.m. on your own at area restaurants.
There is no charge to attend. There is the opportunity to give an offering.
No child care provided.
Video and photography are prohibited during the conference.
Speakers
"Brother Benny"

"Brother Benny" is chief executive pastor of Alpha Ministries, Inc., and serves as the president of IMPACT Leadership Development at Alpha Bible Churches of India. Their objective is to train 100,000 leaders to plant 100,000 churches by 2020. Benny followed in the footsteps of his parents, who are church-planting missionaries in northern India. He spends most of his time speaking at seminars in Africa and in South Asian countries, empowering Christians who are persecuted for their beliefs.

Gilbert Hovsepian

Gilbert Hovsepian became involved in Christian music at an early age, producing his first recording by age 20. He faced persecution and numerous violent threats after his father, Rev. Haik Hovsepian, was martyred.

more about Gilbert Hovsepian

Gilbert Hovsepian, born in 1976 in Iran, gained an enthusiasm for music at a very young age, becoming involved in Christian concerts and worship events, and producing his first recording by age 20. While Gilbert was serving in the military in the city of Mashad, he faced persecution and numerous violent threats after his father, Rev. Haik Hovsepian, was martyred. Gilbert immigrated to the United States in 2000 and was honored to be a presenter and teacher for different youth TV programs. He became well known and admired among thousands of students in Iran and produced worship recordings and resources for the growing number of Christians there. Gilbert has produced more than 35 Persian albums that include many other gifted Persian singers. His recent new TV program, called "House of Worship," has enabled many underground churches in Iran to worship with live music, to learn new songs and ultimately see the power of worship in their spiritual life.

Todd Nettleton

Todd Nettleton is Chief of Media Relations and Message Integration for The Voice of the Martyrs and host of VOM Radio.

more about Todd Nettleton

Todd Nettleton is Chief of Media Relations and Message Integration for The Voice of the Martyrs and host of VOM Radio. Todd serves as a voice for persecuted Christians, working with the media to tell people in the United States about the faithfulness of Christ's followers in more than 60 nations where they face persecution because of their Christian faith.
During 17 years of service at VOM, Todd has traveled the world to interview hundreds of Christians who've endured persecution. He has been interviewed more than 2,250 times by various media outlets, including CNN, The Associated Press, Los Angeles Times, the BBC, Moody Broadcast Network, Christian Broadcasting Network, Newsweek, The Voice of America, Mission Network News and Trinity Broadcasting Network.

In 2014 VOM launched a weekly radio program, which Todd hosts and produces. Guests have included Christians persecuted for their faith and family members of Christians martyred for following Christ. The show was named Radio Program of the Year by the National Religious Broadcasters. You can find a broadcast station carrying VOMRadio and listen to all episodes online at www.VOMRadio.net.

Todd was part of the writing team for four VOM books, including the best-selling Extreme Devotion and FOXE: Voices of the Martyrs. He was the principal writer for VOM's book about the church in North Korea, RESTRICTED NATIONS: North Korea.

A former sportswriter, Todd is a graduate of Bartlesville Wesleyan College (now Oklahoma Wesleyan University) and has done postgraduate work at the University of Oklahoma.
The son of missionary parents, Todd grew up in Papua New Guinea and in southern California.