Be inspired by the stories of our persecuted brothers and sisters! At the VOM ADVANCE conference, speakers from around the world share personal testimonies about God's faithfulness in the midst of persecution. Join us to learn how God's kingdom is advancing, even in the face of fierce opposition. Meet your persecuted family face to face, and let God use their stories to challenge you to a deeper, bolder walk with Him.
The conference rekindled my desire to pray for others, to stand in the gap and, again, intercede for those who are persecuted for His name.
You make the persecuted real to us by sharing their pictures and their stories, and I feel like we know them through our prayers.
Recent Conferences
March 30, 2019

Toms River, NJ

March 23, 2019

Morgantown, WV

March 16, 2019

Mechanicsburg, PA

March 09, 2019

Nampa, ID

February 23, 2019

Austin, TX

February 16, 2019

Phoenix, AZ

February 02, 2019

Santa Ana, CA

November 17, 2018

Kentwood, MI

November 10, 2018

Lincoln, NE
view all 24
VOM Advance Conferences in the Past Year
March 30, 2019

Toms River, NJ

March 23, 2019

Morgantown, WV

March 16, 2019

Mechanicsburg, PA

March 09, 2019

Nampa, ID

February 23, 2019

Austin, TX

February 16, 2019

Phoenix, AZ

February 02, 2019

Santa Ana, CA

November 17, 2018

Kentwood, MI

November 10, 2018

Lincoln, NE

November 03, 2018

San Jose, CA

October 27, 2018

Excelsior, MN

October 20, 2018

New Orleans, LA

October 13, 2018

Tulsa, OK

October 06, 2018

Maine

September 29, 2018

Northeast Texas

September 15, 2018

Kentucky

September 08, 2018

Northeast Ohio

August 18, 2018

Georgia

July 28, 2018

Montana

July 21, 2018

Alabama

July 14, 2018

South Dakota

June 23, 2018

Connecticut

June 09, 2018

Central Illinois

June 02, 2018

South Carolina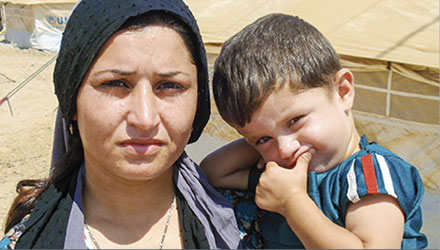 About The Voice of the Martyrs
The Voice of the Martyrs (VOM) is a nonprofit, interdenominational missions organization that offers practical and spiritual help to persecuted Christians around the world. Founded in 1967, VOM is dedicated to inspiring all believers to deepen their commitment to Christ and to fulfill His Great Commission no matter the cost. The Voice of the Martyrs continues in this mission around the world today through the following main purposes:
Our ministry is based on Hebrews 13:3: Remember them that are in bonds, as bound with them; and them which suffer adversity, as being yourselves also in the body.
To encourage and empower Christians to fulfill the Great Commission in areas of the world where they are persecuted for sharing the gospel of Jesus Christ.
To provide practical relief and spiritual support to the families of Christian martyrs.
To equip persecuted Christians to love and win to Christ those who are opposed to the gospel in their part of the world.
To undertake projects of encouragement, helping believers rebuild their lives and Christian witness in countries where they have formerly suffered oppression.
To promote the fellowship of all believers by informing the world of the faith and courage of persecuted Christians, thereby inspiring believers to a deeper level of commitment to Christ and involvement in His Great Commission.
Register for this VOM Advance Conference Saturday, October 12, 2019, in Wisconsin, WI Register Now
Location
HOST CHURCH NEEDED
Host Church Needed, Wisconsin, WI 54911
Get Directions
Details
We are currently searching for a church partner to host an Advance Conference in Wisconsin. If you have a church connection located in or near population centers and would like more information about hosting a conference, please use the Contact Us form or email conferences@vom.org.
One-day conference 9:00 a.m. - 4:00 p.m.
Doors open at 8:00 a.m. for check-in and resource area.
Lunch is 12:00-1:15 p.m. on your own at area restaurants.
There is no charge to attend. There is the opportunity to give an offering.
No child care provided.
Video and photography are prohibited during the conference.
Spread the Word
Speakers
Gracia Burnham

While serving as missionaries in the Philippines, Gracia and her husband, Martin, were kidnapped by a militant Muslim group and held captive for 376 days.

more about Gracia Burnham

For 17 years, Gracia and her husband, Martin, served with New Tribes Mission in the Philippines, where Martin was a jungle pilot. Gracia served in various roles supporting the aviation program and also home-schooled their three children. While celebrating their 18th wedding anniversary at a resort, the Burnhams and other guests were kidnapped on May 27, 2001, by the ASG, a militant group of Muslims. In the ensuing months some of the hostages were killed, but most were set free. From November 2001, only the Burnhams and one other hostage remained in captivity. During their captivity, they faced near starvation, constant exhaustion, frequent gun battles and intense soul-searching. On June 7, 2002, Martin was killed during an attack on the ASG camp by the Philippine military. Gracia was wounded in the attack but was freed by government forces. Gracia has written two books about her experiences, In The Presence of My Enemies and To Fly Again.

Petr Jasek

Petr Jasek, a Christian humanitarian worker and Czech national, spent 445 days in a Sudanese prison.

more about Petr Jasek

Since 2002, Petr Jasek has worked with The Voice of the Martyrs (VOM) to help aid and assist persecuted Christians in hostile and restricted nations. His background in hospital administration was beneficial in his role overseeing VOM's efforts to provide medical care to Christians injured by Boko Haram attacks in Nigeria. As Petr traveled to meet with persecuted believers, he encouraged them with stories from his own experience growing up as the son of a pastor who was persecuted in communist Czechoslovakia.

In December 2015, Petr's life changed dramatically when he was arrested at the airport in Khartoum, Sudan, after meeting with Christians there to evaluate how VOM could best serve them. Instead of continuing his work with imprisoned Christians and their families, Petr became a prisoner himself. Instead of delivering VOM aid to families of persecuted Christians, Petr needed VOM to help and support his own family.

Petr was convicted of espionage and sentenced to life imprisonment, before the Czech government negotiated his release in February 2017. Petr had times of discouragement, but he also found God's faithfulness to be real and true in prison. He turned his imprisonment into an opportunity to grow in Christ, sharing his faith with others and encouraging the Christians imprisoned with him.

Throughout Petr's 445 days in prison, VOM and Christians around the world stood with his family through prayer and other means of support. When Petr was released from prison, he returned to his wife, Wanda, and two grown children in the Czech Republic.

Petr continues to work with VOM, traveling around the world to speak about his time in prison and to encourage believers to stand with our persecuted brothers and sisters in prayer and action.

Gilbert Hovsepian

Gilbert Hovsepian became involved in Christian music at an early age, producing his first recording by age 20. He faced persecution and numerous violent threats after his father, Rev. Haik Hovsepian, was martyred.

more about Gilbert Hovsepian

Gilbert Hovsepian was born in Iran, where his family and church community faced persecution because of their Christian faith. He witnessed God's power amid the persecution, as many Muslims came to know Christ through his father's evangelism. When Gilbert was 17, his father, Rev. Haik Hovsepian, was kidnapped and stabbed to death by Islamic extremists.

The persecution continued even after his father's martyrdom, causing Gilbert to seek God's face more earnestly. Despite losing his father in 1994, Gilbert forgave the killers and, by God's grace, began his own international ministry work. Gilbert has traveled to numerous countries and to more than 200 churches worldwide, ministering through music, media, worship and teaching. His satellite programs have touched thousands of lives internationally, leading many Muslims to faith in Jesus Christ.