Be inspired by the stories of our persecuted brothers and sisters! At the VOM ADVANCE conference, speakers from around the world share personal testimonies about God's faithfulness in the midst of persecution. Join us to learn how God's kingdom is advancing, even in the face of fierce opposition. Meet your persecuted family face to face, and let God use their stories to challenge you to a deeper, bolder walk with Him.
The conference rekindled my desire to pray for others, to stand in the gap and, again, intercede for those who are persecuted for His name.
You make the persecuted real to us by sharing their pictures and their stories, and I feel like we know them through our prayers.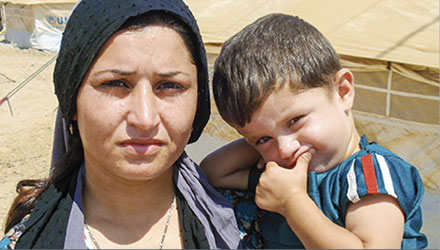 About The Voice of the Martyrs
The Voice of the Martyrs (VOM) is a nonprofit, interdenominational missions organization that offers practical and spiritual help to persecuted Christians around the world. Founded in 1967, VOM is dedicated to inspiring all believers to deepen their commitment to Christ and to fulfill His Great Commission no matter the cost. The Voice of the Martyrs continues in this mission around the world today through the following main purposes:
Our ministry is based on Hebrews 13:3: Remember those who are in prison, as though in prison with them, and those who are mistreated, since you also are in the body.
To encourage and empower Christians to fulfill the Great Commission in areas of the world where they are persecuted for sharing the gospel of Jesus Christ.
To provide practical relief and spiritual support to the families of Christian martyrs.
To equip persecuted Christians to love and win to Christ those who are opposed to the gospel in their part of the world.
To undertake projects of encouragement, helping believers rebuild their lives and Christian witness in countries where they have formerly suffered oppression.
To promote the fellowship of all believers by informing the world of the faith and courage of persecuted Christians, thereby inspiring believers to a deeper level of commitment to Christ and involvement in His Great Commission.